A very special specialty: acacia honey.
Popular and very mild honey with a sweet and flowery taste that makes it so popular, especially with children. It remains naturally very liquid for a long time, due to its high fructose content. Especially its very bright and golden sheen make it stand out strongly from other honeys in terms of color.

The ingredients of acacia honey are generally considered to be of high quality. In naturopathy, acacia honey is therefore often used for coughs and colds.

In our chic 350g honey jar with fluting, which makes the jar particularly good in the hand. Also always welcome as a small gift.

Ingredients: Acacia honey
Store in a cool, dry and dark place
Country of origin: Eastern Europe (Romania/Bulgaria)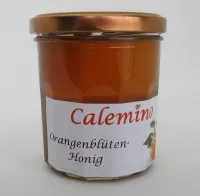 Sun-kissed from Spain: Our orange blossom honey
When spring begins in...
5,90 EUR


16,86 EUR per Kilo
Customer reviews
Sorry, no reviews yet. Be the first to rate the product.
---
8 from 13 Products in this category
---